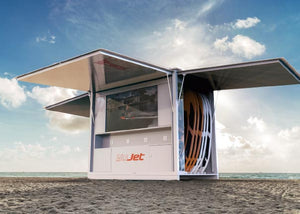 Estimated Arrival: Between Oct 05 and Oct 12. *ETA to the USA Only

The 

Solar-powered YuJet Rental Station is the perfect companion for your YuJet Rental Business.  This self-contained Jetboard storage and charging solution allows you to operate right from the beach, lake, or river.
See All Of YuJet's Jet Sports

 

Here

Questions?  Call a YuJet Specialist:  706.619.6670
The Yujet Rental station is designed for those that operate a rental business.  It operates independently from the power grid and is designed to be installed on beaches, or along rivers or lakes.
Features
Rental operators will enjoy this elegantly integrated solution that allows running their businesses efficiently. The Yujet Surfer USA Rental Station can be installed on any beach shore non-permanently. It can be stored easily off-season and reassembled quickly when the season starts. It also provides a changing room with individual lockers to store the customers valuable while he is out on the water.
☑ Solar Panels
With 4 high-capacity solar panels, the rental station provides the electricity needed to recharge up to four batteries at a time, without being connected to the electrical grid.

 ☑ Surfboard storage
The station can safely store
 up to six boards.
☑ Battery Chargers
Battery charging (up to 4 simultaneously) using the 4 built-in solar panels. 
Two YuJet batteries every 2 hours.
☑ TV Screen

The rental operation owner provides its own TV screen, allowing for the choice of model and size.


Package Includes
☑ Yujet Surfer USA Rental Station


Optional Extra
Experience the combination of a surfboard with the power of a jetski with this fully electric, full carbon fiber, jet-powered surfboard.
The YuJet Surfer XT is made with full carbon fiber construction throughout and has up to a 40-min ride time @ a top speed of 24MPH!
---