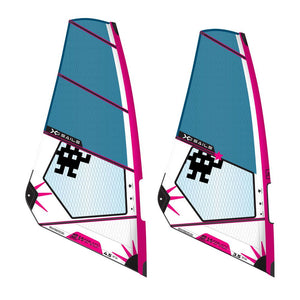 Estimated Arrival: Between Sep 25 and Oct 02. *ETA to the USA Only

The Swing rig is ideal for beginners and those progressing in windsurfing. Light and accessible, it is suitable for all types of riders! Solid, it has been designed to withstand the constraints of club and initiation use. 
Delivered in its carrying bag, it is easy to train with and will suit all practitioners wishing to progress with reliable equipment!
See All Aerotech Windsurf Sails Here
See All Windsurf Sails Here


Features full X-Ply grid construction, Easy to rig with fixed boom and 0cm extension, 3
battens, Strap tensioner on the outhaul, PVC head protector, PVC batten end protector,
PVC anti-rubbing strip on lower batten pocket. Includes sail, boom, mast, base, bag,
and uphaul.


**All rig packages come complete with sail, mast, boom, uphaul, outhaul, base, and extension.
Full grid or X-Ply construction

Easy to rig with fixed boom and 0cm extension

Strap tensioner on the outhaul

PVC anti-rubbing strip on lower batten pocket

Includes sail, boom, mast, base, bag, and uphaul


SPECS


---