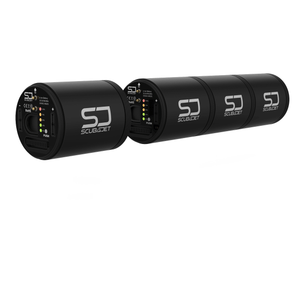 Estimated Arrival: Between Oct 07 and Oct 14. *ETA to the USA Only

ScubaJet Smart Battery 4 x 100wh has up to a 4-hour runtime.   Scubajet Smart Battery is airplane compliant. 

No need to recharge the unit as a whole. Just take a spare battery with you and you're ready to have your Scubajet for your next fun and action water adventure.





SCUBAJET sets the gold standard worldwide for performance, design and engineering. Whether it's the jet impeller technology, cutting-edge engines, modular battery composition, or marine-grade aluminum housing; SCUBAJET bears the hallmark of quality, innovation and leadership. 
Maximize the fun with the 400 wh internal battery pack and stay on the water up to 4 hours. Take your SCUBAJET PRO on the ultimate power trip with this reliable and long-lasting battery. This battery is a must-have for divers and water sports fans who spend a lot of time on the water and away from the power socket. We provide two different 400 wh battery types. The airplane legal batteries are perfect for travelling the world with the SCUBAJET due to the 100 wh modules and can be taken in the hand luggage on airplanes too, while the 400 wh non-airplane legal batteries consist of one module and are not allowed to bring on an aircraft.
The tubes containing the different battery types diverge in size. Please note that you need an additional tube for your 400 Wh battery, even if you already ordered a 200 Wh battery.

Features
☑ 4 x 100Wh
☑ stackable
☑ airline-compliant
☑ stack up to four SMART BATTERY modules to create a whopping 400Wh
Specs
☑ Weight : 2.3 kg
☑ Battery per unit : 100 (in watt hours)
☑ Number of battery units :4
☑ Battery operation / storage temperature : -20°C to +60°C (-4°F to +140°F)
☑ Battery modules status for transportation : not connected, allowed on airplanes
☑ Charging time : 6h

Package Includes
☑ Smart Battery™ 4 x 100 Wh
---