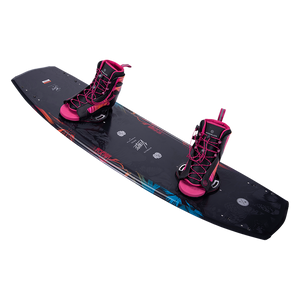 Estimated Arrival: Between Oct 01 and Oct 08. *ETA to the USA Only

The new Hyperlite 2023 Venice Wakeboard with Jinx Binding Package is an excellent choice for beginner to intermediate riders looking for a fun ride with dazzling design!


Shaun Murray and Greg Nelson agree that a solid foundation greatly increases a rider's learning curve. Hyperlite introduces the Venice, shaped specifically for creating that base and solid foundation. The Variable Edge Design is forgiving between the inserts but then sharpens towards the tip and tail, providing the strong edge hold necessary for generating speed into the wake. The Venice is simple and both Murray and Nelson believe that "Less is More" in their shared shaping philosophy. The center of the base is clean, clean water flow creates a smooth ride and softer landings, the dual tunnels easily allow water to enter and exit at the Venice's tip and tail. Hyperlite's Satin Flex ensures the board responds quickly and lands softly, and we guarantee you'll feel at ease on the Venice.
The Jinx is a supportive and easy to get into adjustable wakeboard binding. It features Dual Lace Zones like much more expensive boots, plus the plushness you come to expect from an open toe binding. The 3D molded tongue provides maximum comfort with no sacrificed board control. The Jinx is an excellent choice for beginner to intermediate riders looking for a comfortable, user-friendly option.
Features
Venice Wakeboard
☑ Shaped by Aaron Stumpf
Aaron Stumpf leads the Hyperlite research and development team shaping many of our bestselling wakeboards and surfers. A product design specialist with 25 years of experience, Aaron also creates our manufacturing processes and innovative construction formulas.
☑ Abrupt Continuous Rocker
This rocker line adds a little more kick to the speed that so many riders look for. The Abrupt Continuous rocker line transitions to a slightly exaggerated tip and tail rocker, creating added pop without sacrificing speed into the wake.
☑ M6 Inserts
M6 wakeboard binding inserts keep the bindings secure and less hassle for the user.
☑ Layered Glass
Hyperlite's fiberglass is available in 3 weights depending on the board. Over time, traditional woven glass fibers will separate. With layered glass, every Hyperlite deck will have the same pop-off the double-up year after year.
☑ Biolite 3 Core
The secret recipe Hyperlite has been perfecting since day one. This core material is the gold standard in the industry and is used throughout their line. Bio 3 is their lightest and most durable formula to date.
☑ Monocoque Construction
Integrating the top glass and the bottom glass into one. Generating a more durable board on side impacts to prevent delamination.
☑ Molded In Fins
Non detachable fins designed into the board's shape for added stability and solid edge hold.
☑ Asymmetrical Design
Visible to the eye, the shape differs on each side of the board providing ride characteristics suitable for beginners to enhance toe-side edging.
☑ Satin Flex
Tailored specifically to a female rider's needs. A softer glass layup creates a more supple flex and a board built to our top female rider's standards.

Jinx Binding
☑ Easy on Fit
Binding opens wide easing entry to begin your session.
☑ Support Level - Mid
Material selection engineering to offer a softer more flexible feel.
☑ Adjustable Sizing
Adjustable toe design & floating tongue offer different shoe sizes a secure fit. Share your Bindings and #PassTheHandle.
☑ Low Pro Plate System
The Low Pro Plate system takes much of what we learned from the System binding and incorporates it into a more traditional design. We began by reducing the overall volume by nearly 16%, which translates into a much lighter boot. Our drop-through footbed keeps a rider closer to the deck for maximum control and response. To ensure the baseless design did not produce unwanted plate twist we connected the sidewalls to the chassis, creating a stronger foundation.
☑ Range of Motion - Max
Designed for those seeking a softer more flexible boot - tweaking to the Max.
☑ Universal 6" Mounting Spread
Industry standard insert pattern - Mates with every wakeboard on the market today.
☑ Molded EVA Footbed
Ergonomically molded EVA provides comfort and support for ability levels, impact protection and arch support included on all Hyperlite footbeds.
☑ Articulating Cuff
Pivot point allowing lower foot & upper ankle sections to flex independently.
☑ Lace Closure - Dual
Upper and lower lace closures provide adjustability & customization.
Specs
☑ Ability Beginner - Intermediate
☑ Base Standard
☑ Mid-Flex
☑ Continuous Rocker
☑ Type Boat

Included 
☑ Venice Wakeboard
☑ Jinx Binding Package
Optional Extras
☑ Hyperlite Pro Wheelie Travel Bag
The Ultimate Travel Bag for the Serious Wakeboard Traveler

☑ Producer Bag
Protect your Wakeboard from Set to Set

☑ Team Bag
Optimal Wakeboard Protection between Sessions

---