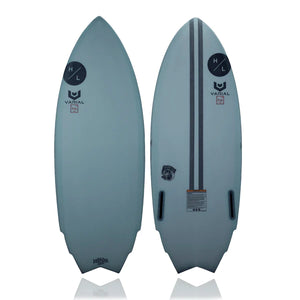 Estimated Arrival: Between Sep 25 and Oct 02. *ETA to the USA Only

The NEW Hyperlite Accelerator is a modern twist on a classic board design that has been trusted throughout the years! This little high performance twin fin will accelerate in and out of turns, and the wide cut swallow tail will allow you to easily boost above the lip. We designed a double wing on each rail to give the board a little bite so you won't be too squirrely with the twin fin set up.

VARIAL SURF TECHNOLOGY - SPACE-X INSPIRED WAKESURF SHREDDER



There is plenty of volume in the tail and under the front foot which give the board great cruising speed. However, a modern entry rocker and a single double concave gives the board controlled speed so all you need to do is lean forward and stomp the gas pedal. Built with Varial Foam and Infused Glass technologies, these materials are strong and hyper-responsive: think about a maneuver and it just happens.

CONSTRUCTION FEATURES

• Varial Foam Core
• Infused Glass
• Futures Fin Boxes
• Dual Deck Reinforcement
• 100% UV Resistant
• Temperature Tolerant
• Polyester Resin
• True Twin Fin
• Tail Profile – Wide
• Tail Shape – Swallow
• Shaper: Varial Surf Tech
Fins & Traction: Sold Separately

Volume (L)

• 4'4" x 19.0" x 1.92" = 19.74L
• 4'8" x 20.5" x 2.07" = 24.71L
VARIAL SURF PROGRAM

Hyperlite is proud to partner with Varial Surf to create the finest Wakesurfers ever seen before, featuring Varial Foam and Infused Glass. This partnership with the most advanced surfboard manufacturer delivers boards that are changing the game for Wakesurfers around the globe. These shapes are handmade in Ventura, California using exclusive aerospace grade materials that ensure the best ride you've ever experienced.
 
TECH DETAILS
MADE IN USA
Proudly shaped and hand made in Ventura, California.

☑ VARIAL FOAM CORE
Varial Foam is the world's first high performance foam adapted from advanced aerospace materials for surfboard construction. The high modulus of Varial Foam makes it 25% lighter and 30% stronger than a traditional PU blank with a stringer. It provides a strong and lively foundation on which shapers can incorporate any flex option they desire. Varial Foam is 100% UV resistant and is always stringer less.

☑ INFUSED GLASS
Varial has created a new patent-pending process for glassing boards, called infused glass. Utilizing a vacuum bagged glassing process, this produces a uniform laminate with extremely low resin content, creating the ability to isolate and engineer specific characteristics into the skins of the surfboard for any desired performance attributes.

☑ FUTURES FIN BOXES
Providing the best interface in the industry. A solid base design offers 100% fin to base connection.

 ☑ DUAL DECK REINFORCEMENT
Additional laminate layers beefing up the top deck preventing breakdowns and dents.

☑ 100% UV RESISTANT
Aerospace grade materials repel damaging rays from the sun and will not breakdown due to exposure.

☑ TEMPERATURE TOLERANT
Aerospace grade materials which do not breakdown due to hot summer days and exposure to the sun.

☑ TRUE TWIN FIN
Industry standard twin fin design for speed and drive down the wave.

☑ TAIL PROFILE - WIDE
The wider the tail shape the more push you have down the wave with increased ollie power.

☑ TAIL SHAPE - SWALLOW
Great on shorter board lengths, provides hold on steeper waves and is a super fun turning on the rail.


 

AVAILABLE SIZES:

☑ 4.4
☑ 4.8
Optional Extra
☑ Wakesurf Bag
With the Wakesurf revolution in full swing protecting your deck is key to enjoying the long waves and summer days. Available in 2 sizes - 4'8" & 5'4", grab hold of the bag easily with the reinforced handle or padded shoulder strap. Great for day and night travel, protect your surfer as you chase the endless wave.
See Hyperlite Wakeboard Sheet here.
---