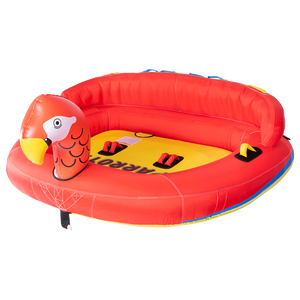 Estimated Arrival: Between Oct 01 and Oct 08. *ETA to the USA Only

Elevate your water adventures to new heights with the HO Sports Parrot 3 Person Towable Tube.
This vibrant and spacious tube accommodates up to three riders, making it perfect for family and friends. With its durable construction, comfortable seating, and multiple grip handles, the Parrot towable tube delivers a thrilling and safe ride every time.
Get ready to soar through the waves and create lasting memories with the Parrot 3 Person Towable Tube.
The Parrot is a 3 rider towable tube built for fun days on the lake. The Parrot can handle up to 3 riders but it can be ridden by 1, 2 or 3. All 3 riders are enclosed in the secure, cockpit seating area. . Looking for a change of pace? The Parrot can be towed backwards as well for a different riding style Built with only the finest materials and guaranteed with our 1 year warranty, this tube will keep you where you want to be…on the water.
Features
☑ FUN, KID FRIENDLY ANIMAL DESIGN
☑ SECURE, COCKPIT SEATING AREA
☑ MULTIPLE TOW POINTS – TOWS IN EITHER DIRECTION
☑ HO QUICK CONNECT TOW ATTACHMENT SYSTEM
☑ HEAVY-DUTY BOSTON VALVE
For quick and easy inflation and deflation
☑ HEAVY-DUTY PVC BLADDER
☑ NYLON WEBBING COVERED SOFT FOAM HANDLES
☑ 1 YEAR LIMITED WARRANTY
Tube Care for Beginners. How to inflate, deflate and store your HO Sports towable Tube.
---