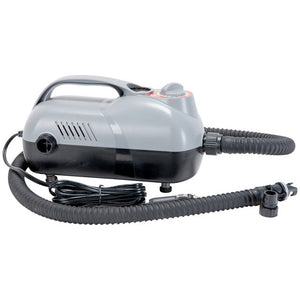 Estimated Arrival: Between Sep 27 and Oct 04. *ETA to the USA Only

The Connelly SUP High Pressure (HP) Pump can get the job done for you. This 12-volt HP pump provides fast 2-stage inflation and deflation.
To prevent over inflation or under inflation to meet manufactures recommended optimum pressure the Connelly SUP High Pressure Pump allows you to dial in the pressure from 1 to 20 psi (0.07 to 1.4 bars). You are always guaranteed to properly inflate your SUP or boat!

Connelly SUP High Pressure Pump:
☑ Standard Pumps Won't Cut-the-Mustard to Inflate SUPs, Kayaks and Rafts
☑ SUPs, Kayaks and Rafts Require High-Pressure to Properly Perform
☑ Connelly SUP High Pressure (HP) Pump Meets HP Requirements
☑ 12-Volt HP Pump Provides Fast 2-Stage Inflation and Deflation
☑ Dial in Pressure from 1 to 20 psi (0.07 to 1.4 bars)
☑ Guaranteed to Properly Inflate SUP or Boats
☑ Easy Hook-Up to Vehicle Power Source w/Included Lighter Plug & Alligator Clips
☑ Extra-Long Power Cable and Corrugated Inflation/Deflation Hose
☑ Easy Handling of Largest Inflatables
☑ Inflate/Deflate Hose Comes w/Adapter for Boston Type Valves
☑ Durable Plastic Housing w/Convenient Carry Handle
---