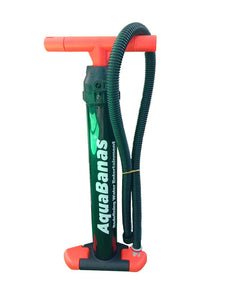 Estimated Arrival: Between Oct 05 and Oct 12. *ETA to the USA Only

"See All Aquabanas Luxury Platforms Here"
"See All Yacht & Beach Platforms Here"
 AquaBanas Super F hand pump is a durable 2 stage pump that allows air to flow in both directions of the stroke with ease! This is a needed pump for the AquaBanas Party and Picnic table tops to reach 10psi.
A great hand pump for SUP's and other inflatables. Reaches up to 27psi
Features
☑ Inflate/deflate
☑ 2 stage pump
☑ built in pressure gauge
Specs
☑  Weight: 5 lbs
☑ Dimensions: 27" x 9" x 8" |  69 x 23 x 20cm

How AquaBanas Work
AquaBanas have a modular design that allow them to operate as a single unit or to be seamlessly connected together to form larger Bana Systems. There are 3 Foundation Banas that are instrumental in creating an AquaBanas system:

STANDARD FEATURES:
☑ Inflated Back Rests
☑ Gator Mouth Flaps
☑ Anchor Rings For Tent
☑ Non-Slip Top Surface
☑ Quick-Step Access
☑ Stable Ballast Bags
☑ Dual Inflation Valves
☑ Netted Footwells
☑ Rock Solid Table
☑ Cooler Cut-Out

All AquaBanas decks and components use a standardized connection system that has (2) D-Rings located 80" apart. Each set of these D-Rings features a 120" wide Gator Mouth flap that firmly holds a non-slip Gap Cap material that prevents anyone from stepping through the butted seam. The decks are held together primarily with (2) chains of #316 Stainless Steel Quick Link connectors connected to the rings. The chains are then covered with a wrap.

Welded Construction
All AquaBanas products are built to the highest commercial inflatable standards including full welding of all drop stitch products. Welded seams eliminate any possibility of seam failure that many drop stitch products are prone to.
Also, an additional layer of vinyl material is added to every seam, along with our trim strip material for added strength.



How to set up?
*Because these are highly specialized products and will sell out, the manufacturer does not accept returns*

Please see Aquabanas FAQs here 
---