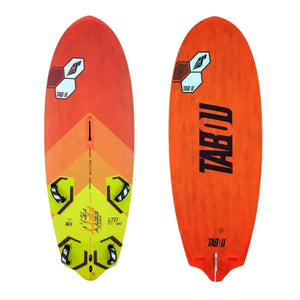 Estimated Arrival: Between Sep 28 and Oct 05. *ETA to the USA Only

This is the first board that from scratch has been equally designed for foiling and fin windsurfing and therefore provides the same levels of performance in both disciplines!







50% Foil + 50% Fin = 100% WINDSURF PERFORMANCE! *Color and design may very slightly between models.

Maximum freeracing performance with a fin and a foil is guaranteed with just one board – the Fifty.  The outline with a wide tail adds leverage for early lift-offs with a foil and enables enhanced control with a fin. A big tail cut-out reduces the wetted surface, which results in amazing top speed with a fin and earlier lift with a foil.
With its high entry rocker the Fifty provides early take-offs as well as smooth touchdowns, when foiling and adds outstanding control, when windsurfing with a fin in rough waters. Each feature of the Fifty increases its performance as windsurfing and windfoiling board.


Color and design may very slightly between models.


Early lift-offs and smooth touchdowns as well as control while windsurfing are enabled by the Fifty's high entry rocker.
A reinforced Deep Tuttle Box provides durability and safety.
Extra leverage with a foil and control with a fin is added by implementing a wide outline in the tail.
Big cut-outs in the tail reduce the wetted surface, which results in impressive top speed and lift.
Comfort when foiling and windsurfing is guaranteed with the cross section deck.
A front V double concave to flat V in the tail lead to outstanding power generation.
The Fifty is supplied with the MFC HF Ride fin for a perfect mix of control and performance at high speed.
CURRENT TECHNICAL SPECIFICATIONS! ALL RIGHTS RESERVED TO IMPROVE / MODIFY / CHANGE ANY PRODUCT AT ANY TIME!



---