Estimated Arrival: Between Jan 31 and Feb 03. *ETA to the USA Only
The Pau Hana 10'10" Solo SUP is the lightest Inflatable Paddleboard on the Market!
NEW for 2021 the Solo SUP™ - Backcountry, is the first hikeable paddleboard, specifically designed for backcountry adventures. It is the lovechild of dirtbag hippies who surf, paddleboard, and kayak, created specifically for digital nomads that want to explore remote waterways accessible only by long hikes or portages.
The Solo SUP™ is a breakthrough in size, weight, portability, modularity, and integration. The development process was an exercise in the art of Japanese organization principles with a focus on "Sparking Joy" in the Konmari way. Their team spent many long weekends packing, repacking, designing, and redesigning until they hit the size, weight, and modularity goals set out to achieve.

Driven by the challenge to reduce bulk and to save space, it leads them to the revolutionary new paddle blade design of the Solo™ Paddle, the soft rollable paddle blade. It is configurable as both a full-size SUP paddle and a Pack Raft canoe paddle. It's extremely lightweight, compact, modular, and space-efficient.

The team likes drybags because they love to play in the water, whether it's salty or fresh their stuff needs to stay dry when it needs to. That's why they conceived the backpack as something more than just a backpack. It needed to do double duty, from being a hauler to get to the lake, to a container when paddling, so the dry stuff stays dry. It also lightweight and made from environmentally friendly TPU with a fully detachable harness that can be stowed inside the bag or attached to a bike with a strap or carabiner.

With a total package weight of just 23lbs. The whole thing has extra space for drinks, snacks, or apparel, or whatever other kinds of tchotchkes you normally take with you on day hikes, there's plenty of room for your stuff.

1. 10'10" SOLO SUP™
2. ACCESSORY HOLDALL
3. SOLO COMPACT PUMP
4. SOLO PADDLE™
5. SOLO DRYBAG BACKPACK
6. REPAIR KIT
7. 10" COILED LEASH
8. SOLO PADDLE™ BAG
9. 2 X 6" QUICK FINS
DESIRE
Pau Hana's aim behind the Solo SUP™ was to break down the barriers of places accessible with a paddleboard. They wanted to make even the remotest of backcountry lakes accessible to anyone who dares to find them. With the Solo SUP™, you can now take your paddleboard, anywhere. Easily.  
Wrestling with this challenge created a new category for SUP, the era of hiking or biking with a paddleboard or pack SUPing has arrived. It also ushered in a new kind of paddle with enormous potential, "The soft rollable paddle blade" or Solo Paddle™. They've barely begun to explore the possibilities of this technology.
5MM Bungee Tie-Down
Coming stock with this board is a bungee tie-down so you can bring your supplies with you no matter where you go
 Textured Traction Pad
The large textured pad ensures grip on your board no matter the conditions of the water
Neoprene Grab Handle
The neoprene grab handle makes it easy on the hands when the board is being moved.
Reinforced Leash D-Ring
The reinforced leash D-Ring ensures that your board isn't going to get away from you when you attach a leash.
Quick Snap-In Fin Box
Easily secure fins in place with the one clock fin system.
15 LBS Weight
Only weighing 15 lbs makes the Solo SUP THE LIGHTEST INFLATABLE SUP ON THE MARKET!

Length: 10'10"
Width: 30'
Thick: 6"
Rider Weight: Max 215 LBS
Weight: Approx 14.8 LBS
Volume: 240 L
Fins: Twin 6" Quick Fins
Deck: Textured Traction Pad
Hull: Displacement
120 Day Warranty


<
A CLOSER LOOK
Woven drop stitch technology is two layers of ultra-light material lined with woven cloth that are attached at thousands of points where a fiber connects the top and the bottom of the board. The drop stitch technology gives substantially more structure and rigidity to the inflatable.
INNOVATION
The Solo Sup™ series of paddleboards is an effort toward modularity, organization, and integration. The Backcountry model, Pau Hana's first effort is just one of many more types of paddling activities that are planned for optimized portability and ease of use.

This new category is going to change the way we think of paddleboarding, how we use them, and specifically where we can go with them. A whole new world of possibilities has just been opened.
SOLO PADDLE™
The Solo Paddle™ is a complete innovation and a revolution for the water sports industry. The new patent-pending design features a fully rollable blade which makes storage options possible that are not with a hard blade.

It is configurable as both a full-size SUP paddle and a Pack Raft canoe paddle. It's extremely lightweight, compact, modular, and space-efficient.
(Photo of Taal Lake, Philippines)
📷 Hike Taal Volcano
Pau Hana believes the Solo SUP™ Backcountry will change the way people can interact with nature and access the outdoors. Inviting more people to explore natural places and interact with nature can help in many ways including mental well-being and in a broader term ecological awareness. By allowing people to access waterways without the need for modern transport we hope we can change the perspective people have of the environment around them.

For 2021 they have changed all the packing at Pau Hana to advance the cause of more responsible and environmentally friendly solutions. To that end, there is no disposable single-use packaging in the Solo™ SUP kit. Everything is ready to go straight out of the box and the box is made of non-bleached biodegradable cardboard and ink, fully compostable if you want to put it into your garden.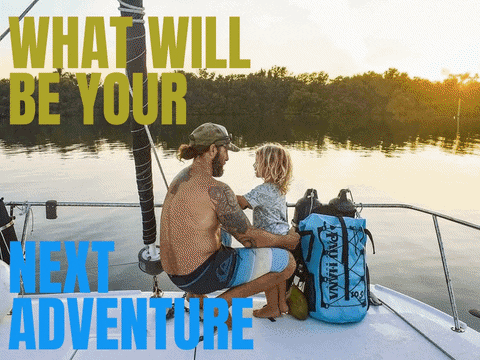 ---