Estimated Arrival: Between Mar 29 and Apr 01. *ETA to the USA Only
Looking for the best boat fenders, boat bumpers, or marine fenders? IMPACT Dock Bumpers are lightweight, extremely tough, and present a sleek, uncluttered aesthetic for private docks, individual slips, and entire marinas.

The dock bumpers are made of 32 ounces PVC coated polyester. Specifically designed with lightweight PVC that is extremely tough, puncture-resistant, and has impressive tear strength built into the layers. All the seams are heat welded making them extremely durable and long-lasting.

Impact Fenders' dock bumpers are enclosed with high density closed cell recycled polyethylene foam that withstands repeated pounding without breaking down.

They have stainless steel grommets positioned to attach to any surface for your boats' ultimate protection.
IMPACT Dock Bumpers integrate a closed-cell foam interior wrapped with a PVC coated polyester shell. This all encompasses a pliable interior to mold to any hull design.
The fastening system connects with polypropylene webbing through brass grommets and then finally to our custom cleat on your boat. Everything is adjustable and form fitting to your boat hull for years of protection.
Check out this quick video about their unique and innovative fastening system.
IMPACT DOCK BUMPER SIZES (width x height x thickness)

☑  Medium, short: 4.5 ft. x 6 in. x 2 in. (4 pounds)

☑  Medium, long: 9 ft. x 6 in. x 2 in. (8 pounds)
☑  Large, short: 4.5 ft. x 6 in. x 3 in. (5 pounds)
☑  Large, long: 9 ft. x 6 in. x 3 in. (10 pounds)

*Dimensions reflect the interior, closed-cell foam, and general protective coverage once installed. Overall product dimensions are slightly larger. Custom sizes and special orders are available.


MATERIAL DETAILS

Thoughtful design is the foundation for every IMPACT product. Adding premium materials to that design is where the magic happens!

OUTER MATERIAL:

- Heavy-duty, 32-oz. PVC-coated polyester

- 1,000 denier woven polyester with durable poly-vinyl-chloride coating
- Massive tensile strength, puncture resistance, and abrasion resistance ensures durability and longevity
- UV- and fade-resistant
- Resistant to dirt, oil, salt, mildew, and most chemicals
- Won't scratch gelcoat or paint
- Won't color transfer


INTERIOR AND MATERIAL:

- Recycled, high-density, closed-cell foam interior

- Doesn't absorb water
- Continues to protect your boat in the unlikely event the outer material is torn or punctured
- Absorbs and disperses impact pressure across the entire surface area for smoother docking experience


OTHER MATERIALS:

- Marine grade, stainless steel grommets

- External fasteners not included


CARE AND MAINTENANCE:

- Easy to clean, with gentle soap or Simple Green and water

- Treat 1 to 2 times per year with 303 Marine Protectant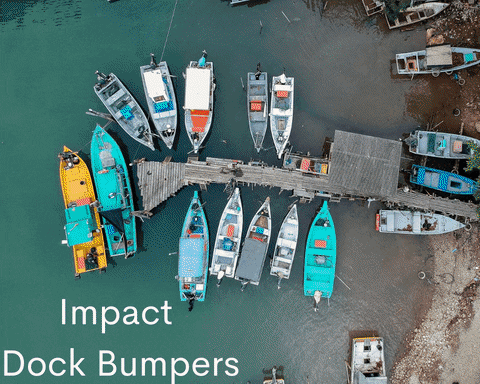 ---