Estimated Arrival: Between Jun 06 and Jun 09. *ETA to the USA Only
Designed by Boaters for Boaters.


No need to put fenders out on your smaller watercraft when rafting up to your larger watercraft. Just hang this Impact Fenders Powell Pad along the side of your houseboats, yachts, and sailboats for maximum protection! Custom crafted in Durango, Colorado, IMPACT Fenders products are made with the finest modern materials, technology and American craftsmanship. Their boat fenders, dock bumpers and pilings pads are extremely tough and impact resistant, providing maximum protection for today's high tech boats and docks.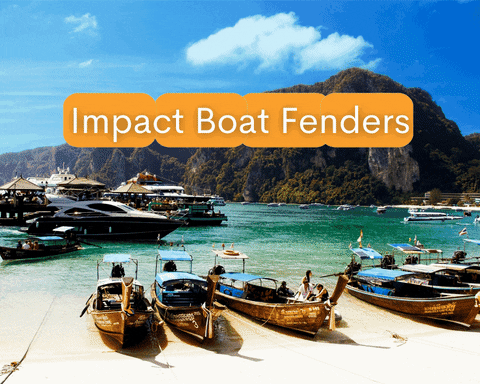 Why Impact Fenders?

A rapidly-growing, boat protection innovator and manufacturer based in Durango, Colorado. With sleek profiles and ultra-durable materials, IMPACT products deliver premium performance and multi-function applications for all types of boats. Founders and lifelong water skiers, Brian Slaughter and Courtney Gates, launched the brand in 2019 with fenders and dock bumpers that are revolutionizing protection. And the product line-up continues to grow! 

Inside the patent-pending, the medium bendable fender is a pliable material sandwiched between the closed-cell recycled polyethylene foam and then wrapped with PVC coated polyester. This provides a malleable boat fender that you can shape to your boat hull or around the gunnel. This means you can get the same performance from a low profile, form-fitting product without the large boat bumpers or big fenders of the past.

Each fender has stainless steel grommets positioned to attach to any surface for your boats' ultimate protection and comes with one-inch polypropylene webbing with a faster clip to secure the fender to any cleat, railing, tower, or handle at any length to protect your boat.

Impact Fenders are also currently working with the US Coast Guard to have their fender used as a Type 4 throwable required on all boats 16 feet and over. The fenders stack and store easily and can be used as seat cushions, in the boat, and out of the boat. The bendable fenders can also be used for lumbar support while towing your favorite person.
Features
☑ The Powell Pad comes in 9' x 2' x 2" or custom sizing.
☑ The Impact Powell Pad is available in all 9 of Impact's premium colors.
☑ Lighter weight, Extremely tough, Puncture resistant
☑ Maximum Protection with impressive tear strength and heat-welded seams, making them extremely durable and long-lasting for the best boat fenders on the market today.

How to Attach your Impact Fenders Powell Pad
PLEASE NOTE :
All orders are custom made. Orders are typically shipped within 3 to 5 business days unless otherwise specified by Impact. Please feel free to contact us if you have questions or need assistance.
---