Estimated Arrival: Between Oct 24 and Oct 27. *ETA to the USA Only
The Dux Duxling Tender Is Tough, Stable and Made to Last!!  This Inflatable Catamaran Is Perfect For four people!
 These Tunnel Hull Inflatable boats are stable, offer more room, use less fuel, and can be towed, stowed, or any style of davit system to lift it onto your bigger boat. Take a look at the best of the best. The DUX Inflatable boat line. Yacht Tender or Dinghy (AKA Duxling Model D-300S), A PVC expanded foam, removable floor for a 98 lbs., overall weight. Or upgrade to a Starboard floor and end up with a 126 lbs., superior watercraft. The twin hull or Catamaran design is MADE IN THE USA.

It's not just the looks, it is the Stability Aluminum Transom, dry storage compartment (Optional), more floor space, Fuel efficiency, Dry Ride, Self Bailing with optional Transom Flap for dry ride applications, (ask for details) level take-off (no high rising bow when throttled due to design). Made in the USA 100%. Give us a call or send us an email and we will recommend and build your water application.

Model, D-300S, is built with plenty of know-how, and built with the highest quality true UV A/B resistant materials, 32 OZ Airtight Inflatable Boat Fabric.

If you are in the market for a first or replacement Dinghy / Yacht Tender, be sure to look closely at the DUX inflatable boat line and the D-300S Aka, Duxling, before making your decision to purchase the outdated traditional Inflatable boats of the past.
** Always wear your life jacket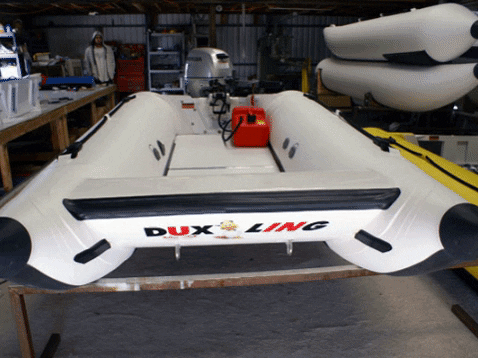 What Makes the DUXLING catamaran design better?
It is not just the modern look, but also;
1. Unmatched Stability.
2. Aluminum transom.
3. Optional Dry storage. (Optional).
4. Usable floor space.
5. Increased fuel efficiency.
FEATURES 
☑ Two-piece PVC flooring, ½ inch. (Optional StarBoard Flooring is available).
☑ Double Sponson inflation design with armor-like protection on the bottom of each hull, bow to stern.
☑ Four air chambers in all. ☑ Aluminum closed transom.
☑ Fiberglass wing.
SPECIFICATIONS 
☑ Length: 9' 8".
☑ Beam: 5′ 8 ".
☑ Tube Diameter: 21.70".
☑ 32 OZ Air tight inflatable Boat fabric.
☑ Dry Weight: 98 lbs. with StarBoard deck: 126 lbs.
☑ Max Persons: 4.
☑ Max Capacity or Load: 1185.
☑ Air Chambers: 4 plus wing.
☑ Engine Shaft Length: 15" or 20″.
☑ Max Hp: electric trolling motor or gas engine up to 15 Hp.
---