Estimated Arrival: Between Aug 06 and Aug 09. *ETA to the USA Only
The Dux Boats Hammerhead is a race boat!  This inflatable catamaran can handle up to a 70 hp engine!  At 13'2" long the Hammerhead can handle up to 6 People!
The DUX HammerHead is a 13-foot handcrafted, completely collapsible catamaran inflatable boat. The HammerHead is extremely versatile and can be used for a wide array of water applications ranging from pleasure cruisers to rescue boats. The transom is open for self-bailing reasons, however, it can be ordered closed if you choose. Be sure to discuss the transom details with us when placing your order.
Inflatable Industries continues to take the rough ride out of the inflatable boats by adding smaller pontoons, called hijackers, to the bottom of the main pontoon's at such a degree that it creates a tunnel – from which, the term "tunnel hull" is derived. The tunnel utilizes the airflow and water flow to lift the boat evenly and safely on a plane. The bottom of the hijackers is protected with a urethane shield which allows for beach landings.
What do we mean when we say "The HammerHead, PD-400 model is a Twin Sponson designed, True Tunnel hull inflatable boat?" Although the dimensions and physics involved in building such a hi-performance boat are kept as intellectual property,  The Tunnel Hull is calculated, created, and added to the bottom of the boat to allow the air to run under the floor and above the water of the Dux Tunnel hull boat line.
IMPORTANT NOTE: The HammerHead and other "PD" models, will operate in shallow water conditions as low as 6 inches on plane and 10 inches off plane.
Stability and Durability
HammerHead is used by some of the most elite captains and military personnel. These Include Sheriff departments, Fire Fighters, Surf Rescue, Kite Boarding instructors, Chase Boats, Dive Boats, and Race teams. "World Wide", and the everyday boat enthusiasts, love our Inflatable boats and they are found on most bodies of water. Ranging from fresh to saltwater lakes and rivers to great and mighty oceans – all across the globe! Used as Yacht Tenders and dinghies, to the water taxis. It is most widely used as the world's most versatile boat to us regular people who love all water sports and applications.
Versatility is a key
The HammerHead incorporates a design that allows for an exceptional level of versatility. It can be used for countless water applications, such as hunting, fishing, tubing, skiing, diving, kiteboarding, and even racing. The DUX PD-400 is a great alternative to a Jet Ski! Have a blast by yourself or carry up to six people. The HammerHead also makes for a first-rate RESCUE BOAT and, thus, has become a popular choice among first responders.
Tunnel Hull, Catamaran Design
This tunnel hull design has an extremely precise manufacturing procedure and built first, with your safety in mind. All products are built in the United States of America. Handcrafted by Inflatable Industries, LLC, AND Branded / Trademarked as DUX Inflatables.
** Always wear your life jacket *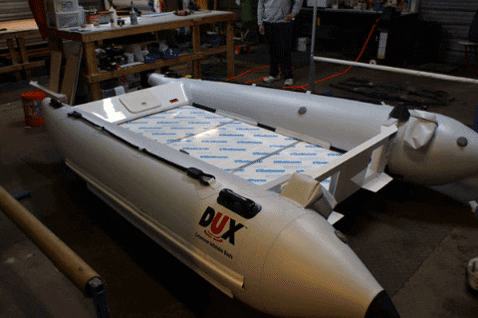 FEATURES 
☑ Three-piece Starboard flooring, ½ inch.
☑ Double sponson inflation design.
☑ Wash Thru / Aluminum transom with a Limited Lifetime warranty. (See Warranty)
☑ Six air chambers in all.
☑ Fiberglass Wing.
SPECIFICATIONS 
☑ Length: 13'2″
☑ Beam: 71″
Tube diameter: 20.70″
☑ 32 oz. airtight, inflatable boat fabric.
☑ Dry weight: 235 lbs.
☑ Max persons: 6
☑ Max Capacity or Load: 1820
☑ Air chambers, 6 plus wing
☑ Engine shaft length, 15″ to 20″
☑ Maximum HP: 40 – 70 (recommended) for tons of fun



Propeller work, if needed, can be done by us for an additional charge (recommended), or at your local prop shop with instruction from our experts. Custom orders differ, therefore your quote may be a bit lower or higher.
---