x
Additional costs and important information associated with importing your Stryker Boat.
Shipping is $650.
Fees and taxes are paid by the customer
Duty Cost on Boat– Customs charges 2.4% of the value of the boat. Typically this ranges from $100-$250
Duty Cost on Accessories – This could range from 0-20%. Some accessories are not charged an import fee at all. Others like wheels could be 20%
Import taxes are charged directly by carrier (DHL) and submitted to US border services. Sometimes the carrier will require your IRS/SS# for import purposes.
The customer receiving the boat may be asked to supply their Social Security Number to customs.
State taxes vary from state to state. Your state may charge tax before delivering your boat.
You will need to register your boat.
Estimated Arrival: Between Oct 04 and Oct 07. *ETA to the USA Only
An all-purpose, open-cockpit inflatable kayak that paddles solo or tandem, the Aquaglide Chinook 100 will take 2 medium-size paddlers on gentle rivers and lakes, with room for extra gear and lunches.
The Chinook River in southwest Washington is known as a mellow ending in Baker Bay. Delivering an easy breezy adventure, the Aquaglide® Chinook 100 Inflatable Kayak features a stable and durable construction, as well as a fin system with a stiff, durable, foiled fin and quick-release design. In addition, the comfortable Core™ seat includes a high backrest, mesh storage pocket, integrated fishing rod holders and seat straps.

Designed for rivers and lakes just like the Chinook River, this line of kayaks is filled with features catered to new paddlers and anglers. With features like their durable HexShell fabric and open cockpits for easy entry and exit, Chinook kayaks ensure new paddlers feel comfortable and confident when hitting the water.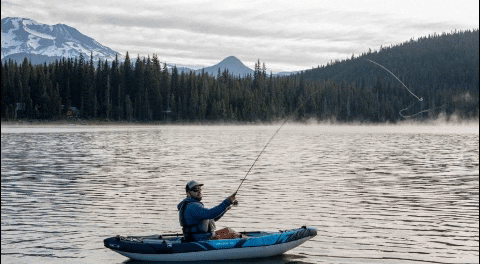 ☑ 1 Chinook Kayak
☑ 2 Core Seat
☑ 1 Quick-Release Fin
☑ 2 Footrest
☑ 1 Transport Bag
☑ Repair Kit
☑ 4 PVC Rod Holder Sleeves
☑ Ideal for a solo paddler who occasionally needs a tandem; perfect for adult and child—or paddling with a furry friend
☑ Open-cockpit design makes for easy entry and exit from the boat
☑ Simple setup gets you on the water in minutes—just take it out of the bag, inflate, adjust the seat and paddle away
☑ When not in use, the kayak rolls up into its bag, making it easy to store in a trunk, closet, or garage—no racks needed
☑ HexShell 600-denier ripstop polyester offers strength, durability, puncture resistance and excellent UV protection
☑ Fully covered, removable floor adds durability and allows for easy cleaning
☑ Core seat offers a thick padded cushion, along with a supportive and breathable high backrest to keep you cool on warm days
☑ The seat installs easily in seconds with quick-release adjustment straps and is anchored solidly to the floor with hook-and-loop closure strips
☑ Fishing-ready with 2-rod holders and a storage pocket installed on the seat to keep your gear neat, tidy and within easy reach
☑ When cleaning and rinsing the boat, simply open the cockpit drain to allow water to flow through
☑ Easy-to-use Boston valves inflate and deflate the 3 chambers
☑ Quick-release weedless fin improves tracking through the water
☑ Hook-and-loop closure paddle holders keep your paddles in place when you need your hands free to access gear
☑ D-rings along with front and rear deck bungees secure dry bags and other gear while paddling
☑ Includes duffel-style carrying and storage bag, providing compact and portable storage when not in use

☑ Best For: Flatwater and touring settings
☑ Capacity: 400 lbs (181 kg) 1-2 Person
☑ Warranty: Limited 1 year
☑ Dimensions: 10′ L x 37″ W (305 cm L x 94 cm W)
☑ Weight: 23 lbs. (10,4 kg)
☑ Scotty Mount Screw Specs: Not Applicable

Shipping:
If your order is in stock and we process the charges to your credit card, it will ship within five business days from the date of your order. We will send you tracking information within 24 hours of your order leaving the warehouse to the e-mail address you provided when checking out. If you do not receive tracking information from us within six business days of your order, feel free to follow up with us at info@lightasairboats.com.Typically most products are in-stock, with items shipped within 1-2 business days.
Domestic U.S. Shipping is within the lower 48 states. Shipping Costs are $35 for watercraft. Accessories ship free when purchased with watercraft. Accessories purchased separately are $15. Limited time offer, free shipping on all orders over $200 in the lower 48 states.

We do not currently ship to: Alaska, Hawaii, APO/FPO Address or Internationally.
---
This kayak is great!
This kayak is great! I went with friends on a float down the river and it did very well.
Countless hours of fun
Have had mine for five years and have had no problems. Has provided my wife and I countless hours of fun.
Enjoyed these much!
Enjoyed these much! Went on an all day trip and everyone was comfortable and less sore then we normally are with our molded kayaks.
Way better than I was expecting
It tracks way better than I was expecting, as good as my mid range hard kayak.
It is easy and quick
This is my first inflatable kayak, and is a great buy. It is easy and quick to setup if you have a good pump